President Donald Trump and North Korean leader Kim Jong Un finally met and shook hands on Sunday. This meeting was followed after a days of speculation and positive statements made by the leaders. Both Trump and Kim met at the Demilitarized zone between North and South Korea on Sunday.
This meeting was their first one after the summit in Hanoi in February, that didn't really went well. Trump arrived early at the DMZ at 2 AM Eastern US time and was accompanied by South Korean President Moon Jae-in. Trump and South Korean military officials were shown waiting for the arrival of Kim Jong Un.
Before the meeting with Kim, Trump met with some South Korean officials and was expected to review relics based on the Korean War era. He said, "We're with you all the way". At around 2:40 AM, Kim arrived and both the leaders spotted each other from a distance. They started walking towards each other, shook hands, then walked back into the North Korean border. This made Trump the first ever President to step foot inside the Hermit Kingdom.
Related Post : North Korea Executes Five Officials Who Failed To During The Trump – Kim Summit
Trump later told Kim that he was proud to step over the line. According to the Associated Press, Kim appeared to be pleased by this meeting. "I believe this is an expression of his willingness to eliminate all the unfortunate past and open a new future", he said. Kim also said that he was surprised when Trump extended the invitation on Saturday.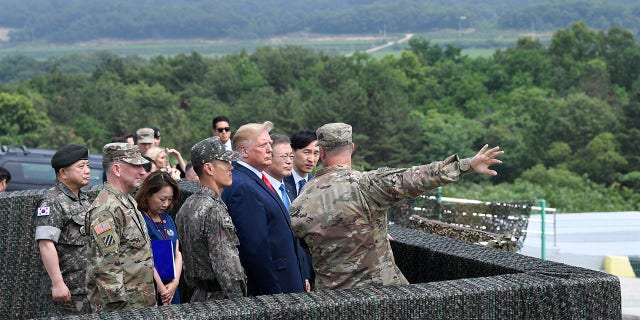 Earlier this meeting, before Kim arrived, Trump told the reporters that there have been tremendous improvements between the US and North Korea since their last summit with Kim in June. He also said that he would invite Kim to the US and also possibly to the White House.
🚨Happening Now:
President @realDonaldTrump is wheels up for the DMZ — from Seoul, South Korea… pic.twitter.com/oW5HsibDjB

— Dan Scavino Jr. Archived (@Scavino45) June 30, 2019
"I would invite him right now", Donald Trump said. In response, Kim said that he would invite Trump to Pyongyang, the capital, at the right time.
Pres. Moon (@moonriver365) at the ROK-U.S. Summit: "Pres. Trump (@realDonaldTrump) gave a big hope to the whole world through a tweet yesterday. Seeing the tweet, I felt the flower of peace is truly blossoming on the Korean Peninsula." pic.twitter.com/bBM70yzIed

— The Office of President Moon Jae-in (@TheBlueHouseENG) June 30, 2019
Trump further downplayed the importance of this meeting by mentioning that it would just be a step in trying to improve the US-North Korean relationship. He also said that it would be a step forward in achieving the US goal of nuclear disarmament on Korean Peninsula.
Read More Breaking News at Storify News